Dalmatian coast & islands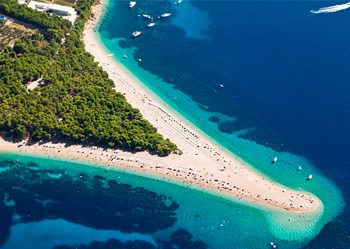 Brač, Italian Brazza, rugged, mountainous island in the Adriatic Sea that is part of Croatia. With an area of 153 square miles (395 square km), Brač is one of the larger islands in the Adriatic; it lies southeast of the mainland city of Split. Its maximum elevation, 2,559 feet (780 m), is reached at Vidova Mountain, the highest point in the Adriatic islands. The main occupations of the inhabitants are fishing and agriculture; crops include figs, olives, almonds, and wine grapes. With insufficient fresh water, the island must be supplied from the mainland in summer. 
Hvar belongs to the group of central Dalmatian islands and is located between the islands of Brač, Vis and Korčula, the Pelješac peninsula and the Makarska Riviera. At 298 square kilometres, it is the fourth largest Croatian island, with over 250 kilometres of coastline. It has 11,500 inhabitants and its largest towns are Hvar, Jelsa and Starigrad.
Dugi otok je otok u Jadranskom moru, na hrvatskoj obali Jadrana. Pripada zadarskoj otočnoj skupini sjevernodalmatinskih otoka i ima 124 km2 (dug je 43 km, a širok do 4,6 km) te 2873 stanovnika. Površinom od 113,3 km2 i ukupnom duljinom od 44,5 km Dugi otok čini vanjski niz otoka zadarskog arhipelaga, zajedno s otocima Molatom, Istom, Škardom i Premudom. Na otoku se nalazi jedanaest naselja, od čega su Sali, Zaglav, Žman, Luka, Savar, Brbinj, Dragove i Božava smješteni na sjeveroistočnoj strani, dok se Soline, Verunić i Veli Rat nalaze na sjeverozapadnoj obali, u duboko uvučenim zaljevima Solišćica i Velarska vala.
Kornati islands include 89 uninhabited islands, islets, and reefs, for a total area of 217 km2, and are famous for the cliffs. It seems that the number of islands is even bigger because an old saying says: "As many days in a year, as many Kornati islands". The biggest part of the Park is in fact its main island, Kornat, and the entire archipelago was named after it. The greatest fans of the Kornati islands are the boaters who find there what they seek the most: a sunny labyrinth of sea and islands, and the peace of the untouched nature.
This unique city-fortress is on the UNESCO World Heritage List and offers a rich gastronomic and cultural scene and many romantic places as well as entertainment locations, providing all visitors with a fairytale experience of the city.